SIMULTANEOUS DEPLOYS TO ALL YOUR SERVERS
What you can do with Erwall Clients Group
Configure multiple servers with one click

Don't waste your time while configuring one by one

Apply a rule change on multiple servers at once
General Features
Easy to use interface

Configure default and custom rulesets

Manage users and priviliges

Create efficient rules with IPSets
ADVANTAGES OF ERWALL
ERWALL provides you with automation equipped with new technologies so that you can perform your Linux firewall configurations easily and with minimum error.
Quickstart
Installation for Debian Distributions
For GNU/Linux distributions other than Debian-based ones, you can follow the manual installation guide from documents.
$

curl

-sLO

https://www.erwall.io/downloads/linux-x64/erwall-server.deb

&&

sudo apt install ./erwall-server.deb
$

curl

-sLO

https://www.erwall.io/downloads/linux-x64/erwall-client.deb

&&

sudo apt install ./erwall-client.deb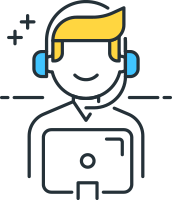 GET CONTACT WITH OUR
SALES TEAM TO START NOW!
Contact us now to have more detailed information about the ERWALL service and to ask any questions you may have.
Contact Information
Choose Your ERWALL Plan
You can start using ERWALL right away by choosing the most suitable plan for your needs.
FREQUENTLY ASKED QUESTIONS
Do you need more information about ERWALL? Here are some already replied questions that you might be curious about.
IPSet is the structure that can be used to group IP addresses with similar attributes & can be used while defining rules. For example, when you want to block the IPs in your blacklist, instead of entering these IPs one by one, you can create an IPSet and define your rule over it and save your time.
With the Client Groups feature. Client Groups are structures that group similar purpose servers on which you want to use the same IPTables configurations. By creating a Client Group, you can manage multiple servers simultaneously without having to apply your settings them one by one.
Yes, if you downgrade your plan, you can use your current plan until the end of the period that you have paid for. After that, your plan will be downgraded.
Except for the license key you get from the panel, ERWALL works completely on-premise. Therefore, it does not require any information transfer with the outside of your system.
You can register users to your ERWALL account. The comprehensive list of permissions enables you to define roles for different user types. Define the roles, register users, assign roles to them and then you can maintain ERWALL easily.
ERWALL consists of 2 files, one of them is ERWALL Server and the other one is ERWALL Client. Iptables configurations are highly confidential. Thus, we have developed the ERWALL Server application in a way that you can run it on your own server.

The changes you make with ERWALL Server will be applied to all your servers with the ERWALL Client application.
Of course, ERWALL has an easy-to-use interface. You can manage all your iptables configurations easily.
It allows you to minimize the firewall configuration errors made on the complex terminal screen by using an easy and convenient interface. It saves time by configuring multiple servers at the same time.
You can check out the documentation page or you can open a ticket. Your ticket will be prioritized due to your support plan.
First of all, once you subscribed to ERWALL with one of its plans, you will receive a license key on "Merlin Keys" section in Merlin Panel. Then you need to download ERWALL Server. Once you downloaded ERWALL Server, enter the license key into the system. After that, you can start to use ERWALL. Once you finished installation to ERWALL Server and ERWALL Client applications, they can start to communicate.